If I wanted to be (badly) poetic, I would say that the two giant, concrete structures looked like a pair of wings, rising from the shoreline and ascending into the Heavens.
In reality, they looked like two very lost highway ramps to nowhere that had been dropped along the water with no real purpose except to block the view of the ocean. Also, there appeared to be a spiral staircase to the highest part of the ramp, and it looked, from the posters pinned around the construction site, that eventually there would be grass on the top.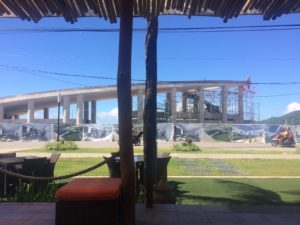 I had a lot of time to contemplate what they were meant to be and who could have possibly thought they were a good idea, because the part of the beach one of the wings was blocking was the part that used to be directly in front of the open-air restaurant at the Puri Rinjani Bungalows, where breakfast was served each morning. I never got the answers to my many questions about what I was looking at – guess I'll have to go back when construction is finished! – but I did get a pretty incredible first few days on Lombok, odd views notwithstanding.
In fact, Puri Rinjani is a bit of an oasis, set back from a quiet stretch of road, further from the busy cluster of streets that make up Kuta's town center, but still within walking distance of it. There is plenty of scooter parking with room for a few cars, and reception is a walkthrough – you walk into the largely open reception area through one entrance, check in with the ever-friendly desk attendants, and walk out the opposite side into a expansive garden filled with plumeria and other flowers, a huge banyan tree, and a clear blue pool with a hot tub and outdoor showers. The bungalows themselves are around the periphery of the garden. They are all separate buildings which really maximizes the sense of being on a private island and they vary in design; some are on the ground with a small front porch, some have larger front windows so you can see out to the garden from the comfort of your bed, and some are actually raised off the ground like little treehouses. I stayed in the first type and it was perfection in that I had plenty of access to garden views but could still easily close the blinds and not feel like I was on display.
Inside, the room was basic but comfortable. It definitely wasn't a room designed for hanging out (although it did have a small TV and decent WIFI), but I was in Indonesia and not about to hang out in a hotel room anyway! It suited my needs of being a place to sleep, store my things, and shower in between adventures. I did actually spend more time in the pool than I expected, since given the option I'd almost always rather be in the ocean, but it was nice to be able to start or finish the day there. The water was always a nice temperature, and I don't think I ever encountered another person in there, aside from C. Private island bliss!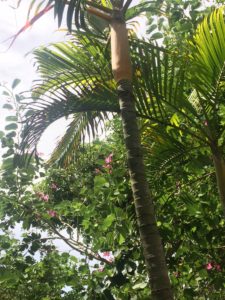 As for the food, breakfast was included, and it was a consistently delicious start to the day. The menu was varied, with simple staples like an omelet or toast with jam, as well as more unusual twists on familiar Western breakfasts. My first morning I went for the soy and ginger porridge with coconut and toasted baguette, and I also enjoyed the turmeric and apple French toast with bananas and pineapple. My favorite though, and the only thing I repeated, was the green pancake with honey, coconut, and a caramelized banana. So good, and as always, so unphotographed. In addition to the main dishes, each breakfast came with a fruit plate (usually melon, pineapple, and watermelon, although there was also banana one morning) and there was bottomless self-serve coffee, which was essential and endeared Puri Rinjani to me forever.
The restaurant also served dinner, which C and I tried one night after getting back late from a full a day out. The food – vegetable tempura, Thai prawn green curry, and a pineapple juice – was good and it was really nice to have the convenience of being able to eat on site, but I probably wouldn't go out of my way to eat dinner there. The prices weren't bad, but they were definitely higher than at the local warungs and I don't think the food was significantly better (or better at all, really). But, on a night when I was truly exhausted and couldn't decide whether food or bed was the more pressing need, it was everything I wanted.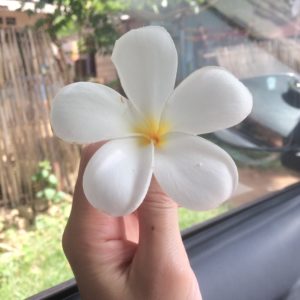 I think it's telling that on a trip where we booked most accommodation for one to three nights, we stayed at Puri Rinjani for four. Originally, we had only booked for two, but after one night we decided to extend the stay. It certainly wasn't expensive by US standards, but it was on the more expensive side of the places we stayed (~$50/night) – well worth it though for what was included! Having parking was key, breakfast and the pool were nice extras, and everyone who worked there was friendly and attentive…and helpful and non-judgmental when C and I managed to lose our room key on the last day there. The only downside really is the construction site/ocean-blocking structure out front, but at least that was mostly a visual disturbance – it generally wasn't noisy, and it certainly was never noisy enough to keep me from sleeping. In the end, I loved it there and would absolutely stay again. The loss of the sea view is sad, but not a deal breaker and ultimately, it's a little bit of paradise, private and quiet, but close to everything, and it comes complete with a concrete guardian angel (or something). And maybe most importantly, that glorious bottomless coffee.