I very rarely take pictures of my food. I'm always impressed by good food pictures that other people take, but I just don't think food photography is in my skill set. Plus, I have hanger issues and I'm usually aggressively halfway through my meals before I remember that I should have documented. This isn't usually a huge problem, but as it turns out, not taking a picture of my breakfast at the Puri Kesari Guest House in Sanur, Bali, is my only regret from my trip to Indonesia.
The Puri Kesari Guest House is not necessarily the easiest place to find, being tucked away on Jl. Kesari No. 2, but it is actually in a really central location, just around the corner from the bustling main road running parallel to the beach in Sanur. Once you're there, it's hard to believe you could have ever missed it. After the intense amount of relief in seeing my name on the check-in board when I arrived, I continued to be taken care of with a level of attention that far exceeded any expectations I had, especially given that it was only ~$25/night. The room was on the second floor and huge. It had a ton of extra space, possibly the world's strongest air conditioner (that thankfully came with easy to use controls!), and a glorious, strong, hot shower that easily washed away 24+ hours of travel, leaving me relaxed and solidly in vacation mode. There was decent wifi, a balcony, a mini bar, bottled water, and a complimentary bowl of fruit, including salak (snake fruit)! I get really excited about new fruits, so Indonesia was a dream come true.
I grabbed a water and my book and sat out on the balcony soaking in the sunset and my first night in Indonesia, only coming back inside when I saw my first mosquito.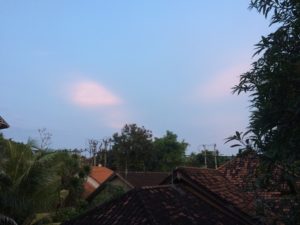 But back to that breakfast. C and I ordered at reception on the way back from watching the sunrise on the beach (!!) and it was brought right up to the room and out to the table on the balcony. There were a ton of options, including things like omelets and banana pancakes, but I went for the Balinese cakes, which also came with a fruit plate and coffee. The cakes themselves were beautifully arranged and there were several different varieties: a black rice cake, something like a rice-y dumpling, and a light green pancake (laklak?), all with a touch of syrup and coconut. See why I wish I had a visual? Food blogger, I am not. But I am a food lover, and I adored this meal. It was a bit sweet to have daily (combined with two cups of coffee I was legitimately VIBRATING for most of the morning), but it was the perfect way to start the first full day of vacation.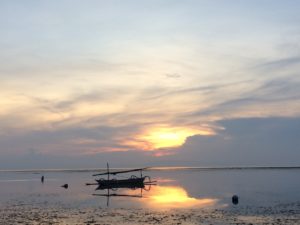 If nothing else, please go stay at Puri Kesari just so you can send me the full details of that breakfast I am still dreaming (vaguely) about, but you should go to Puri Kesari regardless. In addition to the amazing food, it is only about 30 minutes from the airport (and they can arrange a shuttle for around 200,000 IDR – no negotiating needed!) and the people who work there are SO nice. I was only there one night, and that's all it took to feel recovered from ~24 hours of travel, leaving me ready to jump right into the next adventure:
Lombok.