I haven't run a marathon since October 2014, meaning I haven't run 20 consecutive miles since then either. Mostly I've been fine with this, if not decision, state of things, and yet the last weekend in March I found myself on the start line of the Eastern States 20 miler and, spoiler, 2:53:03 later, I found myself at the finish.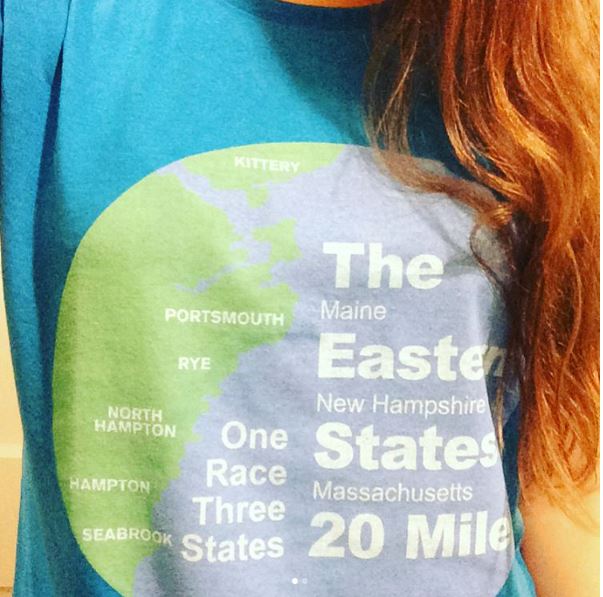 The Eastern States 20 milers is the well-known (apparently) and much loved race/last long run before Boston that starts in Kittery, ME and ends in Salisbury, MA, traveling south via the coast of NH including towns like Portsmouth, Rye, and Hampton. Until this year, it wasn't on my radar, but a friend signed up to run it as part of her marathon training and convinced me to run it as well. I am not training for a marathon, nor have I been training for anything in particular, but something about running through three states appealed to me and so I signed up.
The race is low key but well run, with shuttles to the start and aid stations approximately every three miles. The hardest part of planning for me was deciding what to wear since 1. It is "Spring" in New England and 2. A lot can change along a 20 mile point-to-point course along the coast. In the end, I wore long tights, a tank top, a light long sleeve top, a buff neck warmer, a fleece headband, and gloves with hand warmers. I was definitely grossly overdressed for the start, where it was sunny and not overly windy, and I got rid of the gloves/handwarmers around mile 7, but by the end, when it became exceedingly cloudy and grey, I was grateful for the few extra layers I still had.
The race itself is gorgeous, and it was hard not to smile coming around a corner and seeing the ocean and the sun shining. As for me, this race was great in a lot of ways, and…less than great in others. Like I said, I haven't run consecutive 20 miles since 2014, so I'm a little out of practice with the planning and the pacing. I've also been running less (but faster) throughout the week than I was for my last marathon training cycle. My long runs leading up to this looked something like: 8, 10, 13, 0 (skiing), 15, 17, 9 (taper), RACE. It was a fairly quick training cycle with the only goal being "finish without dying". With that said:
Miles 1 to 10: GLORIOUS. I started out a little too aggressively (which I paid for in the second half), but I was running between 8 and 8:30/mile. I fell into pace with a few other women and felt challenged, but happy running with them. I took a Honey Stinger gel at Mile 7 and felt good.
Miles 10 through 13: I slowed down a bit to closer more consistent 8:30 miles. I was starting to feel a little tired, but felt like I could keep going at that pace for a while. Not exactly ideal for negative splitting, but fine for getting back on the road.
Mile 14: Things started falling apart. All of a sudden my right ankle started hurting – and my ankle never hurts. I panicked a little bit and realized that the road had a pretty significant slant to it for water run-off, which makes sense for a coast road, but isn't something I'm used to running on, and certainly not for long distances or at that pace. I slowed down to around 9:00/mile. Ultimately, I didn't want to finish the race injured, so I was disappointed to have to slow down, but wanted to minimize pain. The roads weren't closed to traffic so running closer to the center where it was more level wasn't really an option. I took another Honey Stinger gel as much to distract myself as for fuel.
Miles 15 through 18: Despite trying to be sensible and pulling back, I think I must have been adjusting my stride to favor my ankle, because my knee started to hurt, which completely threw me off mentally. I stopped and stretched, and slowed down even more. I started making deals with myself about conditions under which I could just stop and DNF and during one particularly dark and not at all overdramatic moment I may or may not have thought "I'm a swimmer – a water person! I'm not BUILT for land! What am I doing here?!" So yeah, things were going well.
Miles 19 and 20: Luckily the road had leveled off a bit and we got to run along the waterfront boardwalk. My knee wasn't getting better, but it wasn't getting worse, so I tried to pick things up again (mixed results). In order to hit the MA border, the race actually goes to about 20.2 (per the course map). I knew this going in. I expected this. I was sort of ready for this. What I didn't realize was that the finish line was around a corner, so I started to panic a little bit when I hit the 20 mile mark and couldn't see the finish line anywhere. Still, I picked up my pace a little bit more because I knew it had to be somewhere nearby. Finally I saw the turn and hauled it towards the finish. My last little .2 was back under 8:30, I crossed the line, grabbed a medal, and in a previous break from previous race tradition did NOT immediately start dry heaving. Small victories!
My legs immediately cramped up, but I managed to hobble to the shuttles back to the parking lot. I got to the after party, chugged a cup of soup (turkey noodle!) from the soup buffet (seriously). I was still really cold at that point so I dragged my sorry butt the three blocks back to my car, cranked the heat, and started the trip back home.
Overall, the race is great and I can see why people keep coming back, both to race and for Boston training. The volunteers are fantastic, the view is gorgeous, and even though there aren't a ton of spectators, the energy is great on course. There were a few groups of people who drove the full course and stopped to cheer at several locations. Even though they weren't specifically MY people, it was nice to see familiar faces and enthusiastic cow-belling, and I couldn't help but smile every time I saw them. So THANK YOU whoever you were!
As for my race, those last five miles may have been miserable, but they were important in that I'm considering a fall marathon and I came away with a long list of things to remember next time I'm seriously training/racing:
I need the full training cycle. I survived on the minimum for this, but do not want the end of my next marathon to feel like this.
I need to run longer during the week. I've been doing mostly shorter runs (~4 miles) during the week, whereas for my last marathon I was running 7 and 9 miles during my mid week runs. My short runs are faster than they were last cycle, but I can't sustain those paces as long. So next cycle I need to get that mid-week distance back.
I can't really help the road conditions on the course, but I should try to train on some different terrains to try and minimize negative impact if/when the road tilts unexpectedly.
I need to get back outside for more of my runs (difficult, but not impossble for New England winter) in order to remember the layers I need. I'm good at freezing and hot but in between really threw me off.
Mental game needs work. When I started to fall apart, I really fell apart. And I probably shouldn't be running away to the ocean mid-race.