What I saw
In keeping with the theme of this trip, I had a very basic itinerary for Plymouth (Best summed up as: See the lighthouse, eat scones with clotted cream) and other than that I just kind of wandered around. And around and around and around and around and around. While my first full day was that aforementioned windy, rainy, borderline bitter day, my second day was sunny, mild (in the 50s), and all around lovely. I was thrilled that I got to see things in such varied conditions, but that meant I wanted to see everything multiple times – in the rain, in the sun, during the day, at sunset… And so I wandered. So rather than bore you with the full-on itinerary of how many times I circled back to Smeaton's Tower and the Barbican (so, so many), here's the overview (you're welcome):
The Naval Memorial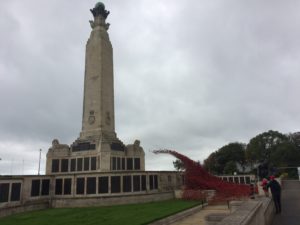 In the heart of the Hoe and close to Smeaton's Tower, this isn't something I specifically set out to find, but I'm so glad I did. While I was there, there was an exhibit of ceramic remembrance poppies arranged as a wave cresting toward the monument. It was beautiful. I didn't realize that these poppy exhibits are installed all over the country, but I'd happily look at them anywhere. So, so pretty.
Smeaton's Tower
More on that separately, I think.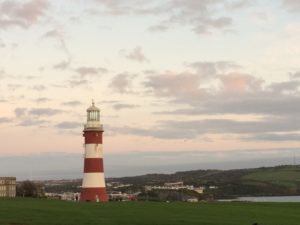 The waterfront and Tinside Lido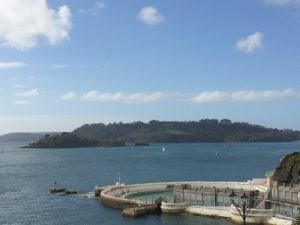 I was there in the off season so didn't get the full Lido experience, but even empty (of both water and crowds) the seaside, art deco-style pool was impressive. Another one for the "next time" list! One thing I did truly love about Plymouth is that all roads lead to the sea. Separate to the pool, there are numerous sets of steps carved into the rocks that lead from the road down to the waterfront, and sometimes straight into the water. I tried to explore as many as I could and as a result found stunning views, tidal pools, little rock seats, and a whole line of brightly colored cabanas where open water swimmers had set themselves up. Some were just heading out into the water (right down the steps!) and others were returning and setting up chairs outside their cabanas or making themselves tea inside. I am definitely a water person (had you noticed…?) so I really appreciate towns that make water access that easy and normal! And in October no less!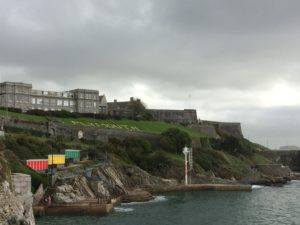 The Barbican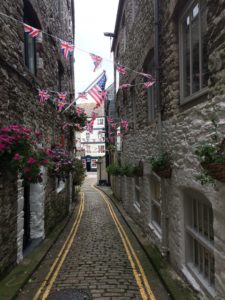 After the waterfront, this was my favorite part of the city (and not solely because of the food). It's intensely cobbled and is where the Pilgrims launched themselves from. It also has lines of charity shops (which I adore, especially for their holiday cards, of which I have several stacks that I have bought over the years but not managed to send), art studios, the Plymouth Gin Distillery, the eclectic collection of shops in the tiniest, most whimsical arcade (I don't remember the name but if you look for the House that Jack Built, you'll find it), and a bookstore after my own heart (multiple floors, arranged both on shelves and overflow stacks on the floor). Apparently, the Barbican is one of the most tourist-heavy areas of the city, which is understandable, so I guess avoid it if you like to be away from the masses, but I do not care and I loved it. I could have easily spent entire days there.
City Center and Drake Circus
These were the main shopping areas, and to be honest my least favorite parts of the city. They have everything you could possibly need for all your shopping needs, and I did check out the latest at River Island, but I wasn't really there to shop so mostly passed through these areas to grab food or on my way to something else.
Plymouth University
I actually took a campus tour, which was pretty cool. Plymouth is a relatively new school (I say, having attended the University of Edinburgh, founded in 1583), but is already a leading authority in several marine industries – Plymouth is Britain's Ocean City, after all! My favorite part of campus was the Sherwell center (lecture hall located in an old church) and I was dying to see the Coastal, Ocean And Sediment Transport (COAST) laboratory, but unfortunately it wasn't part of the tour (and the guide was annoyingly attentive in making sure no tour group members wandered off. Only sort of joking).
Royal William Yard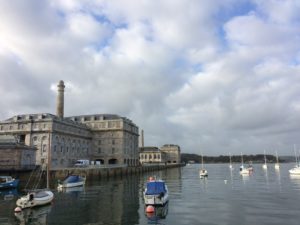 A former Naval "victualling depot" (thanks, Wikipedia!), the Royal William Yard is located about 1.5 miles from The Hoe and has been given a new life as a hub of shops, restaurants, cafes, and apartments, all with a beautiful view of the water (of course) and nearby greenspace/trails. The old stone buildings are still labeled with their original purposes (eg, cooperage, brewhouse). On the whole, it kind of feels like what you would get if you took the location/structure of Fort Adams in Newport, RI and combined it with the overall vibe and redevelopment of the Fort Point/Seaport area in Boston, MA. One thing I found really cool is that in the summer season, it is possible to get a cheap ferry between Fort William Yard and the Barbican, but being there in the off season I just walked it both ways.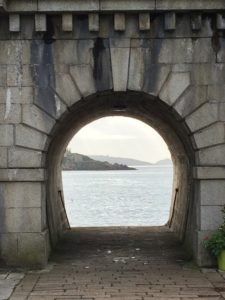 And that about covers it! Plymouth truly lived up to its Ocean City label and I loved how much the water played a role in both its history (birthplace of Sir Francis Drake, origin point of the Pilgrims) and its present (the whole waterfront area, and, as I recently learned, a huge number of shipwrecks and an active diving community out exploring them), and it is definitely a place I would like to get back to.